Milan is Mecca of Fashion, and this Idea Comes to Life when you walk around in Milan. Every Corner Depicts Style and Each Street is not less than a Runway. Being Hometown of Many Top Notch Designer Brands, This City Breaths Fashion!
But Do you Know that Milan has the World's Oldest Shopping Mall? Completely Justified!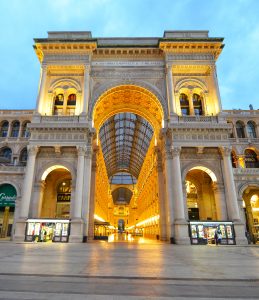 Galleria Vittorio Emanuele is a historic sight and architectural gem that non-shoppers will want to see, too. The Place is Always Buzzing, Creating a Feel of non-Stop Fiesta.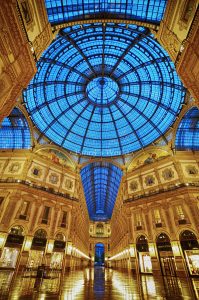 Here are Few Interesting Facts about it:
Galleria Vittorio Emanuele was designed in 1861 and Built between 1865 and 1877
It named after Victor Emmanuel II, the first king of the Kingdom of Italy
It contains a Five Star Hotel, Luxury Shops and Restaurants
It connects streets between Piazza del Duomo to Piazza Della Scala
It is covered by 19th century popular style of arching glass and cast iron roof, The central octagonal space is topped with a glass dome
The ground is designed with four mosaics portraying the three capitals of Italy Turin, Florence and Rome
Tradition says that if a person spins around three times with a heel on the bull from Turin coat of arms this will bring good luck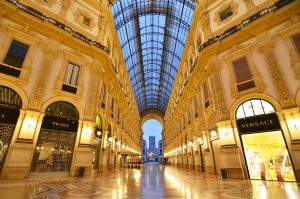 It is one of the Landmarks of the City so Missing it Out is Nearly Impossible but there are few Things to Keep in mind Before Visiting it
Entry is Free
If You Want to Absorb the Beauty of the Architect, better to Go After Sunset or Early Morning
If You are Planning to Have Meal at One of the Restaurants Inside the Mall, Either Book Your Table Before Hand or Keep Margin of at least 30-40 Minutes. Because The Restaurants are Full Most of the Time
We Visited the Place Right after Sunrise to Take Some Nice Shots of the Place Without Any Disturbance. managed to Take a Nice Photo Without Any Human in the Bcakground. I Wanted to Show Off my Gucci Belt that i Bought from Oldest Gucci Store in Mall as Souvenir. And Opted for a Subtle Cotton Shirt Dress, added Accessories from the Shops on Each Corner of the Galleria: Louis Vuitton Bag, Prada Sunnies and Dior Ear Studs.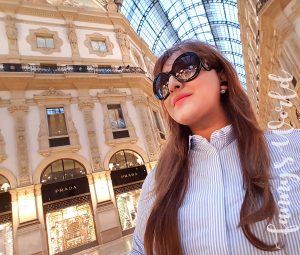 I'll Be Back Soon With More on Milan, Keep Visiting! Ciao!