Lately, You must have seen Kardashians, Hadids, Beyonce and other Top Celebrities wearing Vinyl Clothing on and off Red Carpets.
And now when Louis Vuitton has stepped in Vinyl game, the trend has become seriously ON. In fashion Blogger's World, From Milan to Paris vinyl has been the ultimate trend on the street Style Fashion. Whether it's trousers, skirts or even Coats
But the question is why it is not reaching to streets even though the brands like H&M and Zara which are quiet accessible to masses are already stocking them.
Answer is simple, and I even did a little research before posting this on web that It's a common assumption that Vinyl or Latex dresses are only limited to clubbing wear. Widely considered as not easy to carry in modest way. And a Big no Vote from all the curvy ladies out there.
So here I am your average, risk taker, curvy Fashion blogger, with a modest and wearable take on Vinyl or Latex Wear. To benefit of all women around!
But, First of all let me clear out few misconceptions about Latex Wear:
Vinyl makes you feel Hot even in winters. Not true, I have been wearing a latex dress in scorching heat of Dubai and it never felt any extra warm.
Less styling potential. False! Sky is the limit, from soft fabrics to Mesh, latex looks great with all kind fabrics, accessories and textures. Even you can pair it with floral accessories.
Limited to clubbing or red carpets? Actually No! That's not what you are wearing that's how you are wearing it.
Vinyl is for night time only? No! Its about colors and styling. That's all.
Plus Size ladies cannot carry latex outfits. False! You don't have to select a fitting bodycon dress, vinyl and latex comes in variety of styles. Actually I find them more flattering for curvy girls in comparison with skinny bodies.
Got his Dress is from ASOS few weeks back and since then I was trying it with lots of difference accessories, undershirts, tights and what not! At the end I decided to a do a multiway, modest and plus size friendly look. Good news! Get a latex Dress and wear as a skirt as well, how? Look below 😉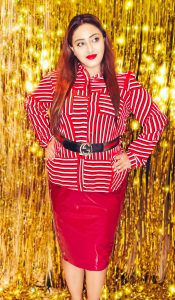 it's not a must have staple, but definitely a versatile and great investment. If you are not into dresses, get a Red or black vinyl/latex skirt. Pairing options are unlimited. From solid colored t-shirts to mesh blouses. They are the hottest item of clothing you can imagine right now. To tone down a latex/vinyl dress or wearing in a rather modest way, pair with an undershirt, button down as I did. i'll be back soon with few more Fun Latex Outfit ideas.
Thanks for Reading.