Frankly! It wasn't my idea to visit lake Como, never thought that I would like this place. But I have to admit this now that I can go back to this place again and again. In coming days I will be sharing a lot of stuff on this but lets start with the most common questions that comes on your mind when you are going to plan a trip to Lake Como :
Which town to stay in?
How to get there?
Those times are gone when Lake Como was considered as the Holiday Destination for Rich People and Celebrities. The Tourism industry has improved and this region has become much more accessible than before. Even in the non-tourist season most of the Towns are buzzing.
There are two ways to get there. But it depends on which part you wish to visit.
First lets have a look on the Map of the Region. Can you spot an inverted V? or say 2 legs of a man. The town of Como is on the edge of the left leg. If you want to get to Varenna, that's on the right side where the lake's girdle loop would be. Varenna is small cozy town but has train station. You have to come here to access the most happening town Bellagio, which is situated in the center of the lake.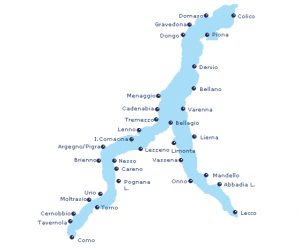 We were staying in Varenna so taking ferry after train station wasn't our concern. From Milan central station to varenna's esino station the total duration is around 45-50 minutes. The scenic views of Lake Como starts after 15-20 minutes of the train travel.
The first thing you will notice after arriving Varenna is the picturesque train station, the kind of train stations we watch in movies. Most of the Hotels in Varenna are facing Lake and on walking distance from the train station. But the roads are curvey and if you have luggage better take a cab. You can get the cab behind train station.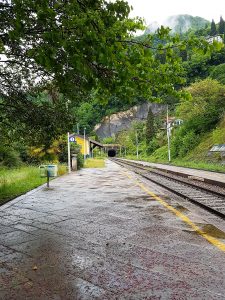 The second thing you will notice in Varenna is terracotta and beige houses with ample greenery. The whole town is like a cute painting with lots of colors and peace.
We took a taxi to Piazza San Giorgio, the main square, it's a quick 4-5 minute taxi ride and a flat rate of ten euros to get there.
We were staying in Hotel Royal Victoria and it is practically a part of the main square. one side of the square has Church of San Giorgio, a concrete architect built in 1313. It has a bell tower and the bells chimes after every hour.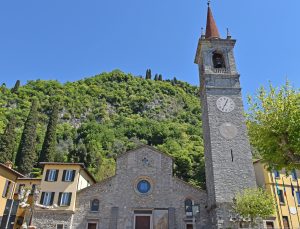 After checking in we went out to view the lake front and followed one of the lanes slopping downwards beside Hotel. And it was the majestic lake of Como at the end of the cobble stone stairs. And behind them the breathtaking view of Alps.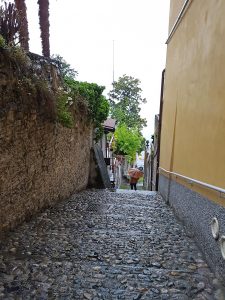 After spending some time on lake we went back to Hotel and reserved ourselves dinner table at Hotel's Restaurant. wait for the next Episode of Lake Como Series.