Oysters Rockefeller is a well-known cooked oyster dish. It can be made many ways, but my version is very simple with a short ingredient list
All you need is few simple ingredients and Fresh Oysters.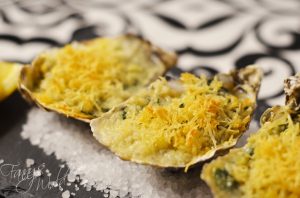 Step 1:
Shuck the oysters with a dull knife, wear thick gloved during this procedure. Hold the oyster in the gloved hand with the flatter side up, keeping the oyster as level as possible. Locate the hinge at the 'tip' of the shell, and insert the knife tip to pry the shell apart. Apply twisting pressure to lift the top portion off. Once the shell pops open, keep the oyster flat to prevent the juices inside from dripping out. Discard the top portion of the shell. Use the knife to separate the meat of the oyster from the shell by sliding it under the end opposite the hinge near the curved lip.
Step 2:
Preheat the oven to 375 degrees. Melt a stick of butter per dozen oysters in a large skillet over medium heat. Add 1 tablespoon of chopped shallots per dozen oysters. Cook, stirring frequently, until they turn white. Add 2 cup full of chopped baby spinach. Cook for 2-3 minutes then add a cup of Cream. Add salt and black pepper, Cook until mixture thickens, 3 to 5 minutes. If mixture seems too thick, add a little water or heavy cream to thin. Remove the pan from the heat. Prepare your toppings i.e Parmesan cheese and Panko bread crumbs.
Step 3:
Prepare baking tray by spreading sea salt in thin layer, place oysters, Top the shucked oysters with a heaping teaspoon of green mixture, Parmesan cheese and Panko bread crumbs.
Step 4:
Bake the oysters for 10 to 12 minutes, until the sauce is bubbly and the bread crumbs are crisp and golden. Serve hot with lemon wedges.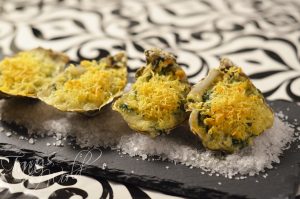 A couple of tips before you make it. This dish becomes more gratifying if you choose to shuck your own oysters.
Always use fresh oyster. Do not add extra salt, because oysters are pretty much salted themselves.